The 9th China (Shenzhen) International Brand Underwear Fair has come to a successful conclusion. HSIA • YA 's brilliant debut at this exhibition has won the high recognition and praise of the industry peers, agents and franchisees, no matter from product design, Exhibition, or healthy fabrics, environmental philosophy, cost-effective and so on, have received a very high degree of attention; the exhibition, HSIA • ya with new image, the latest design, product fashion won the 新锐 Brand Award; This is undoubtedly a pole Great encouragement and recognition, we believe that in the future HSIA • ya will provide the public with more cost-effective products.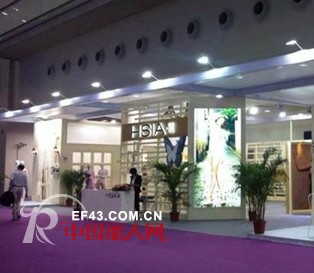 HSIA • Ya pursuit of "slow" fashion, in the fast-paced era, "slow" fashion is a state, an attitude, but also a touch of indifference and detachment. HSIA • ya's products are designed through "slow" intentions, to help women better establish a dialogue between the heart and body, so as to retrieve the most authentic and comfortable self. Good products should be able to create a good atmosphere, transfer and balance our way of life, become an important part of life; HSIA • ya are moving in this direction, and in the near future, we can see a Stylish and elegant underwear brand rising.
More and more people are pursuing more comfortable self space, advocating light rather than heavy, restrained and unobtrusive way of life. HSIA • Ya Zhang always said that our products are to serve the public, the purpose is to provide consumers with quality of life, our products is to convey such a way of life; product design fresh and elegant style, natural and gentle, Concise intellectual, literary sexy, cutting-edge fashion products but affordable, consumer no burden, the value of the purchase of goods; more importantly, the health and environmental protection fabrics, we firmly believe that comfort naturally will become the female consumer mainstream consumer attitudes.
Hand Bag,Womens Bag,Womens Hand Bag,Lady Hand Bag
Shaoxing Yichuang Trading Co., Ltd. , https://www.yichuangcc.com