Ben Wang July 26th, if what is popular this summer? We can see from the 2013 spring and summer fashion week, Jason Wu, Alexander Wang, BCBG MaxAzria ... have chosen the structural design style, To express a woman's sexiness in a neat and capable form, there is no shyness this summer, and some are the truest and most powerful structural beauty. Rihanna fell in love with it, Gwyneth Paltrow also fell in love with it, Miranda Kerr, Rooney Mara... also crazy for it, this summer it must not be underestimated.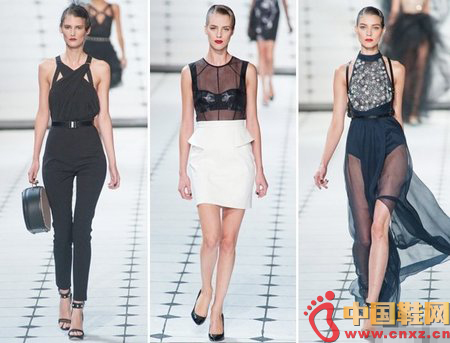 Jason Wu 2013 spring and summer women's clothing
As the hottest fashion darling in New York, Jason Wu has the power to do everything he wants. This season, Jason Wu has brought a new series with a large area of ​​skin exposed and a large number of leather lace decorations. Provocation is not a design method used by designer Jason Wu. To know that it is the first lady of the United States, Michelle Obama, is the president. The brand chosen in the inaugural speech is elegant and consistent. However, Wu Jigang Jason Wu2013 spring and summer women's wear, nude and black as the theme color, upper body lace, lower body leather skirt, decorated with some SM-like leather armor, coupled with the model's red lips and rough eyebrows, very Helmut Newton !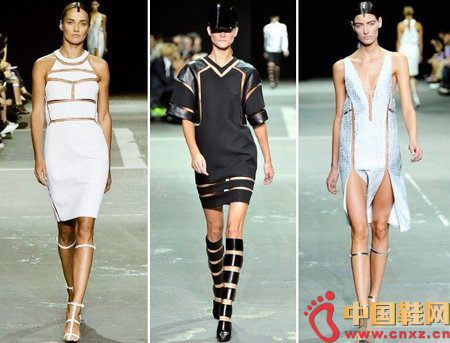 Alexander Wang 2013 spring and summer women's clothing
After experiencing the simple "ustism" of the previous season, designer Alexander Wang showed us how he broke the single product at the Alexander Wang 2013 spring and summer ladies show. Experiment on the profile - meticulous structuralism. This experiment culminated in the appearance of invisible stitching sexy skirts. The invisible sewing lines made the clothes look like they were attached to the body and floated. This became the most attractive design for this season's Alexander Wang show. .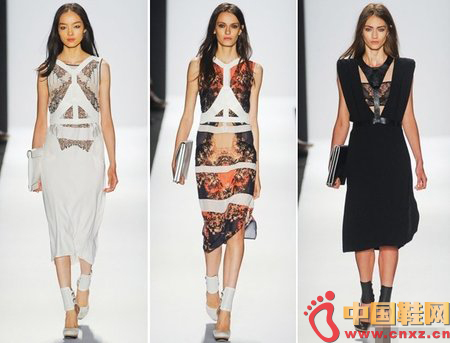 BCBG MaxAzria 2013 Spring Women's Wear
BCBG Max Azria 2013 spring and summer women's release, BCBG Max Azria has always been the opening show of the quarterly New York Fashion Week, this season still maintains the signature elegant chiffon skirt, but unlike in the past is the season in the light of the snow Spinning together with some minimalist leather, BCBG girl looks a little stronger. This season's BCBG uses a large number of black and white lines and lace leather. For the sexy interpretation of women, Mrs. Azria said she does not think that sexy is too much naked, trying to use a long coat to interpret sexy. Although BCBG Max Azria had a less gentle and softer season this season, it was more sexy and gave us many surprises.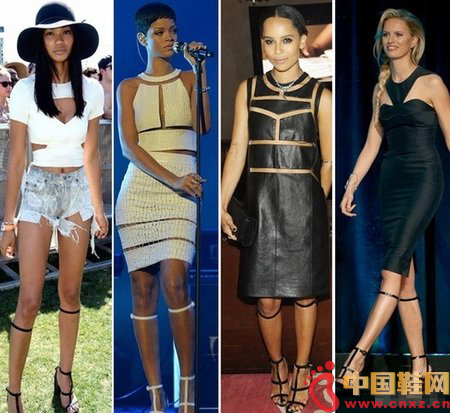 Chanel Iman, Rihanna, Zoe Kravitz, Karolina Kurkova in Axander Wang
Structuralism fashion has always been deeply loved by stars. Whether it is daily life or attending a major dinner, characteristic structuralism has always been the star's first choice. Hollowing or self-cultivation is always possible. A sexy interpretation of the extreme.
· "Bai Xia Girl" likes to wear on the upper foot
· Rejecting ugly rain boots The most IN patent leather shoes are your rain
·Admiralty body waterproof shoes make travel more pleasant
·The smart men wear comfortable shoes with comfortable feet to fly
·New Balance leads the tidal wave father to record
·[Shoes · Will] 23-year-old signature shoe is very show?
· Natural Kings, exclusive 70 year old Danish Humvee shoes
· Cats and shoes fire? Every girl should have a pair of Hepburn
·The white dress is not "small white"
·Pleated skirt with what shoes with different wipe out
Mens Solid Shirts,Mens Cargo Pant,Mens Formal Shirts,Mens Check Shirt
SHAOXING NEWTEX IMP.&EXP. CO., LTD , https://www.newtexgarment.com